あわたま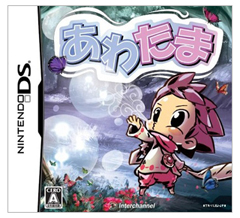 Hello all! I recently moved to beautiful Kyoto to work at Q-Games.Today I wanted to introduce a game that I worked on previously, that is soon to reach Japan: AWATAMA.
I was working in Paris (France) in a very small game studio called Mekensleep,where we made this DS game called Soul Bubbles. It is a physics based action/puzzle game that we hope makes fun usage of touch pen controls.
Because we all love Japanese games, it was always our hope to get the game released here. After consulting the opinion of various people and discussing with our publisher, we decided to change the main character, to adapt it more to local style. Of course it was a difficult decision from a creator stance to change a character after the game is done, but we wanted to give the game better chance for Japan: he became more colorful and he grew hair to convey a genki feeling.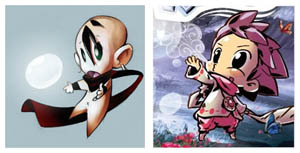 We also used the additional time to make some changes and improvements to the game, so this version became a little better than the original. I hope you will like it.
Awatama is out on July 16,
<以下日本語訳>
Hello all! ϺǶᡢQ-GamesƯˤԤ˰ñۤƤޤ󡢻䤬βҤdzȯ˷Ȥä륲fumufumuǾҲ𤷤Ȼפޤ⤦ܤȯ䤵錄פȤǤ
ϥѥˤMekensleepȤȤƤ⾮ʥॹƯƤޤβҤdzȯDSѥSoulBubblesפϡʪŪưˢ򡢥åڥꥹơ򥯥ꥢƤѥ륲Ǥ
ʢΥȤʤɤǤϤȤƤ⤤ɾƤޤ
䤿ܤΤ٤ƤΥब繥ʤΤǡˤܤǥ꡼뤳ȤԤ˾ǤޤƤĤˤΥ󥹤褷¿ѥ֥å㡼ȰոŤ̡ͤǽŪ˥ᥤǤ륭饯ܤΥ˹礦褦ѹ뤳Ȥꤷޤ򸫤餪ʬȻפޤäȥեˡȱäȸʴˤʤäƤޤ
󤽤ϳȯ¦餹ȡबǤ˽夬ä夫饭饯Ѥ뤳ȤϤȤƤ⺤ʤȤǤ䤿ϤΥܤǤ乥εͿäΤǤ
ޤǡΤβˤ֤򤫤ΤǡǤϥꥸʥǤ⾯ɤʤäƤޤäȤߤʤ󤬤Υ򹥤Ǥ뤳ȤԤƤޤ
֤錄ޡפ7/16ڡˡ()󥿡ͥȯ䤵ޤ
ҰͷǤߤƤ͡